Read This –
I Belong Here
Anita Sethi
Pub. Bloomsbury Wildlife 2021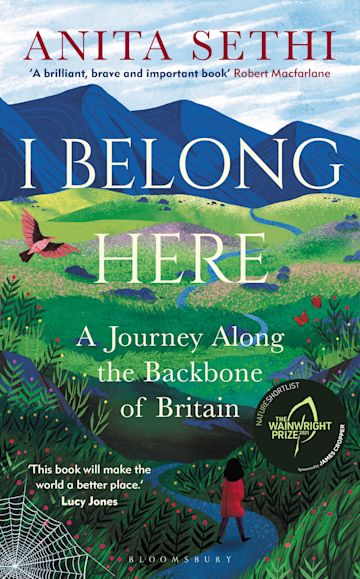 To say that Anita Sethi's book, I Belong Here, is a timely read is an obvious statement, but no less true for its self-evidence.
Sethi was a victim of horrendous racial abuse while travelling on a TransPennine train from her native Manchester to Newcastle. This vicious attack on her right to exist in the place of her birth understandably shook the writer to her core, causing
her to question her sense of belonging in the UK and the North especially. Treading that well-worn path of the non-fiction journey of self-discovery – previously beaten by writers from Albert Wainwright to Cheryl Strayed – Sethi sets out to walk
along the "backbone" of Britain, the Pennines.
By walking alone through the wild, remote Pennine landscapes she aims to reclaim her identity as a northerner and
discover more about the people, places, and ideas of the North.
Sethi opens her Wainwright Prize-shortlisted book in the Peak District village of Hope. This is symbolic, both of the optimism that runs throughout her narrative –  even during her most harrowing accounts of racism in the UK – and of the activist
spirit that has clearly spurred Sethi to give voice to her experiences. Walking, she argues, has always been a radical act – Hope, of course being a starting point for the
climb up Kinder Scout, site of the 1932 Mass Trespass when an estimated 600-800
walkers sought to reclaim their right to roam in their homeland.
It is this same goal that drives Sethi's journey almost 90 years later.
Her book does not follow a linear structure. Rather it weaves its way through
historical accounts of Britain's colonial atrocities and the Suffragette Movement in
Manchester; memoirs of Sethi's own lived experiences of racism; exquisite nature
writing celebrating the unique Pennine landscape and wildlife; reflections on
language and how it can shape societal prejudices; and passionate polemics on how
to tackle racism and address the climate emergency.
Though this non-linear approach can occasionally make the narrative difficult to follow, it reflects Sethi's
travels through the Pennines – which frequently venture off the beaten path to explore places such as Hull Pot in the Yorkshire Dales, England's largest natural hole (who knew?) – and brings a fresh perspective to a well-established genre.
I Belong Here is not just a timely read but an important one. Through this book, Anita Sethi transforms a deeply traumatic experience into a story of hope and an urgent call to action – for how we can all take steps to combat hate, tackle social injustice and preserve our unique natural environment.
R.Johnson, September 2021.  
---
Barbara Hepworth Art & Life
Eleanor Clayton
Published by Thames & Hudson
The shout outs about this book are the excerpts from Hepworth's letters, (which it has to be said, did leave me wondering how researchers and archivists will fair in a digital world…)
These extracts mean the whole book becomes a true reflection of Hepworth's core values, and her voice sings through the masses of wonderful insights into her work, the tragic episodes of her life, and her overwhelming and inspiring commitment to her art.
I'm not a sculpture expert, or an art historian, or an artist, or an instinctive reader of biographies. My interest stemmed in this amazing lady being born and raised in my home-town of Wakefield – a place, unlike perhaps Florence, Paris, New York or even London (!) not immediately famous as a cultural nursery for world class artists.
So it was with great pride and pleasure I kept going, enjoying the personal insights, the realities of childcare and studio work through second world war challenges, Hepworth's steady growth to world fame, and not least, of course, her dignified, gentle, intelligent and polite insistence on the relationship between society, the natural world and her art.    
By the final pages I was enlightened and looking forward to years of future gallery visits, all the better informed by this book, to enjoy Hepworth's sculpture.    
PS I smiled to read the following description from The Manchester Guardian, 6 August 1951, reviewing her solo exhibition at the former Wakefield City Art Gallery:
"far the most satisfactory, most balanced, most perfectly achieved of the works shown, even when seen against the rather dismal Victorian-boarding-house- background of the Wakefield gallery, are the strictly abstract sculptures."
For an update on Wakefield City Art Gallery, we would urge you, dear reader, if you have not already done so, to please visit The Hepworth Wakefield https://hepworthwakefield.org
SC July 2021
---
Seed to Dust – A Gardener's Story
Marc Hamer
Published by Harvill Secker 2021 
There has probably never been a more perfect time to read this book. Anxieties are high and our experiences of the world have become limited. We spend much of our time indoors. This book stands to remind us of the beauty and simplicity of the natural world. It is a love letter to the woodpecker, the crow and the rook, the 'low morning sun lighting up the glittering, dew-sagging spider webs', the 'red of autumn leaves'. Through the structure of a year, and significantly the four seasons, Marc subtly weaves the story of his own childhood and adult life against the backdrop of tending to the garden. 
Reading this book is like a long, comforting, all-encompassing hug. Each night I looked forward to picking up its pages and transporting myself away from the day's concerns to Miss Cashmere's garden and Marc's enlightening observations. It is a lovely story in and of itself, but it is also informative. I learnt a lot of practical things about gardening and the natural world. it also works on a deeper level, to throw into question the structures and choices that can dictate our lives. It made me re-evaluate the ways in which I spend my time, my own connection to the natural world, my distance from it. It left me longing for a much simpler life, to be guided only by the changing seasons and the resilient, ever turning cycle of nature.  
I felt very sad to finish this book, it had grown to become like an old friend that I visited each evening. Even now, a few weeks on from finishing it, I miss reading it. I highly recommend it, especially if you are craving stillness, relief from the uncertainties of this current climate, and the opportunity to reconnect with nature. 
ZC March 2021
---
Luster
Raven Leilani
Published 2020 Pan Macmillan
This debut by American writer Raven Leilani, student of Zadie Smith – hotly tipped to be one of the breakthrough novels of 2020. It throws us head first and breathless into the world of disillusioned painter Edie – struggling to get by in a dead-end admin job, sleeping with 'all the wrong men'. We follow the development of her dating Eric, a white middle-aged archivist living the suburban life with his wife and daughter, and the circumstances that see her moving in with his family. 
Edie's razor sharp, unflinching and astutely observational voice carries us through her navigation of her place (or lack of) within the world; race relations, sex, artistic expression and the systematic structures of privilege are dissected against the slippery and often dangerous state of being young, jobless and poor within The Big City. 
The situations and environments the protagonist finds herself in are indisputably odd and often unsettling, her visits to the mortuary where her lovers' wife works being high on the list. They play out like scenes that would be well translated into film. I felt keenly the lack of dialogue; Leilani constructing off kilter relationships that the reader is given the job of piecing together through snippets of interaction or inaction. It's as if these people were simply thrown together like marbles in a bag, knocking up against one another, ultimately indifferent. 
I devoured this book in two sittings – a mean feat for my dismal attention span thanks to lockdown 3.0. I felt consumed by the unravelling narrative which dragged me in and under, Leilani's quick-witted language; surprising, poetic but occasionally cliche, the thing that stayed with me the most. By the end I was relieved to be released from the dysfunction of it all. I felt like I should have cared more – about the characters, the story, what happens next… 
Undoubtedly unlike anything else I have read, and for that reason alone I would recommend it. I'm excited to see what comes next from Leilani.
ZC, February 2021
---
Writing Wild, Women Poets, Ramblers, and Mavericks Who Shape How We See the Natural World.
Kathryn Aalto
Illustrated by Gisela Goppel
Published Timber Press, 2020.
There is so much terrific nature-writing, but the genre seems to have a reputation for being stoically white and male.
And then along came Kathryn Aalto – American landscape designer, historian, and writer living in Exeter.  Her book Writing Wild, Women Poets, Ramblers, and Mavericks Who Shape How We See the Natural World, takes a modern view. It is a long overdue compendium of portraits about American and British women writers who have been, and are passionate about, their landscapes, gardens, and the natural world.
In her introduction, Aalto states: "If we don't give diverse narratives, first, the opportunity to exist, and second, recognition and legitimacy, it can appear that able-bodied white guys have, in the words of comedian Hannah Gadsby, "a monopoly on the human experience……"
This then is a mighty and wholly inspiring gathering of women writers, who have, as the sub-title states, shaped how we see the natural world.
Aalto digs out the little-known facts. About Dorothy Wordsworth, apparently "Ernest de Selincourt, one of her earliest posthumous editors and biographers, remarked that Dorothy was "probably the most remarkable and most distinguished of English prose writers who never wrote a line for the general public."
There is revealing insight into the poetry of Mary Oliver and the landscape she walked at her home in Maine, Nan Shepherd and her beloved Caledonian Mountains, the game changing Rachel Carson.
Aalto's own style is accessible and engaging and provides a clear view of the individual appeal of the writers.  American writer Elizabeth Rush, she tells, us, "made a deliberate decision to put at the heart of her book (Rising, 2018) stories of everyday people whose lives and livelihoods are being fundamentally reshaped by climate change."
Each portrait/ chapter is followed by a useful heads up of similar writers and we are provided with a bibliography and further reading. The book is wonderfully illustrated throughout by Gisela Goppel.
This is an invaluable reference and, we suspect, could and should be the beginning of a long and enlightening reading journey.
In her chapter about Amy Liptrot, (The Outrun,2016,  who we discover, headed for her homeland Orkney Islands after "years of hedonism and drowning in booze in London" ) Aalto states: "  We are meant to be in nature – even a picture of a tree can have restorative effect on our minds. Nature offers hope. Nature offers renewal. Close contact with nature can rewrite our inner geographies and save lives."
Yes, to that. Yes, to this enlightening and vital addition to the book shelves.
SC January 2021.
---
British Native Trees, their past and present uses
Piers Warren 
Here's the thing, a slim volume (84 pages) title British Native Trees Their Past and Present Uses with the sub-title , including a guide to burning wood in the home. It's by Piers Warren, and we class it as a little gem. Definitely one to keep next to the box of matches, mainly because, there is an entire chapter devoted to firewood – from environmental issues to seasoning, storing, and the vexed question of which one, (if, like us, you are a well intentioned townie).
So here is the book which is the answer to all your log burning prayers; Ash, says Warren is "the best burning wood providing plenty of heat…" and Apple and Pear "burning slowly and steadily with little flame but good heat. The scent is also pleasing" plus twelve further recommendations of the very best woods to burn.  When we're allowed to open again, come and browse the books in our lovely log burner warmed shop!
SC December 2020