Read  This
This page for favourite books and reviews from our customers and us  
Bicycle Diaries
David Byrne
Many cycling books tell tales of magnificent feats performed on the Tour De France of the Giro d'Italia and the Vuelta and we marvel at the super-human athleticism and endurance. 'Bicycle Diaries' is no such book, it is a book which is based on the experience of pootling about.
David Byrne, musician, artist and generally good egg likes to see the world from his bicycle. He lives in New York but has cycled around Berlin, Buenos Aires and San Fransisco. From Agbrigg I enjoy trips to Barnsley, Ponte Carlo and Cas Vegas. One trip I rarely make by bike is into Wakefield centre, surely one of the least cycle-friendly cities, despite being at the centre of a network of incredible traffic-free routes. I remember being told by a Council Officer,  "You will never get  the people of Wakefield on bicycles." With petrol at nearly £2 a litre , poisonous air and the obvious impact of climate change I wonder if he has changed his mind?
David Byrne uses his bike everywhere he goes and the book records his very readable musings. In a car you are cocooned in your individual micro-climate, on a bike you are immersed in the communities and environments you travel in. Starting in North America Byrne takes us with him behind the scenes of American cities built around cars, commerce and industries that are now obsolete- sound familiar? He has opinions but is not opinionated or doctrinaire. He makes a convivial guide. He finds an America that "got what it wanted but lost it," then qualifies it. "From a bicycle …I sometimes only see the backsides of everything, which might be unfair".
The photographs included suggest he has it bang on.
Peter Hirst
Price £10.99
Wilding 
Isabella Tree
Ok, I admit it. When this book was recommended to me, I was a little sceptical about whether or not it was my kind of read. I'm aware of many of the environmental issues that face us and our planet and thought that maybe this book was going to be a re-framing of often talked about themes. I was, it turned out, mistaken on several fronts.
The crisis facing farming and considerations about how we feed ourselves had for me fallen by the wayside, but reading Wilding, it turns out, has been instrumental in re-invigorating my desire to know and understand more about such things as subsistence farming and over- working the soil and simply producing too much food.
This book, first published in 2018, tells the story of Isabella and her husband Charlie Burrell and their 3500 acre farm at Knepp in West Sussex that had been sliding towards bankruptcy for years. The farm, occupying land of heavy clay had been, across the years, intensively farmed. It was becoming economically un-viable and they decided that a leap of faith was required to save their heritage, – and they went for it! They handed their land over to nature, minimising human intervention and introducing free roaming animals to stimulate new life and increase biodiversity. They became the Knepp Wildland Project.
An initially dry historical chronology gives way quickly to a narrative of personal love and concern for the landscape that they occupy, and false expectations and incorrect assumptions are laid bare. Well and passionately written, by Isabella Tree, we are taken on a journey of enormous consequence that spans generations and crosses continents, but the overwhelming thread woven through the book prompts the question – are the solutions to the challenges we face tantalisingly simple? The awakening knowledge for the reader is both terrifying and hopeful.
Memories are evoked of times past when traditional farming methods harked back to a largely rural Britain, yet it is packed with a wealth of well referenced statistical truths and analysis. At times this can be a little overwhelming, but we are ultimately led down a path from which there is no return. The style of writing is easy and holds an honesty impossible to avoid or discount. 
This book has a vision for the future. It is brave, spirited and courageous and forthright. It not only encourages us to re-think farming and how it serves us but to look again at how we understand our world and how we live upon it.
Restoration is key to the thinking here, of soil and of eco systems in particular but also importantly of the soul and the re-connection of that to life and to the natural world. Ultimately hopeful and certainly inspiring!
Julie Hird 
Price £9.99
---
All Along The Echo
Danny Denton 
A local radio presenter whose world is not all it might be, and his assistant who is worried about her lost cat, set off around Ireland in a car which is the prize in an underwhelming on-air competition.
Set in a slightly dystopian present-day Ireland, where refugees are flooding back from an England torn apart by terrorist attacks, the story unfolds in snatches of radio chat, static interference and seemingly random dialogues.
Danny Denton weaves all these together to create an intriguing narrative where, despite the experimental form, the reader is drawn in to care what happens to the characters.
---
The Sowerby Bridge Industrial Heritage Walk
Christopher Goddard and Michael Gray 
Where better to start than with a map – no ordinary map. This is Christopher Goddard and Michael Gray documenting hidden heritage gems around the Calder Valley, to produce The Sowerby Bridge Industrial Heritage Walk – hand-drawn with thorough nuggets of information about sights of historical and natural interest. We are invited to explore. So we did. One bright sunny Sunday in late February.
There is, for instance, Hollin Well, built, we are told, in 1874 by James Wood as a public water trough and inscribed 'honest water'. The Stansfield Grange, which began life as a mill-owner's house, but from 1921 to 1972 provided a hostel for female mill workers. And the architectural spectaculars are the mill buildings themselves.
The point to make, if there must be a point, is that this is Pennine West Yorkshire and so the valley top views are superb, and, as history proves, the rivers and valleys fuelled industrial development of the valley bottoms to leave us with a phantasmagoria of heritage. In essence, this walk is an outdoor museum.
It is six miles, some steep climbs rewarded by, as we said earlier, stunning views, surprising nooks and crannies, masses of wild garlic, varieties of moss, mixed woodland, and a sense that we were treading just a little off the beaten track.
It was enlightening to follow in the footsteps of those 17th and 18th century mill workers -exploring the ghostly remains of their homes and workplaces, we at least could enjoy the stunning landscapes, the wooded valleys and breath in the history.
We left Sowerby Bridge Railway Station at around 10.30am and we were back on the high street desperate for a cup of tea at about 4pm (because the coffee flask had run dry) It was an unusual and enlightening day out in West Yorkshire. We heartily recommend.
Price: £5.99
---
Notes From An Island
Tove Jansson and Tuulikki Pietila 
There are books and there are book lover's books. Notes from an Island falls happily into the latter category and draws on Jansson's notes, and her partner Pietila's copperplate and wash etchings, from their summers spent together on the tiny island of Klovharun, at the edge of the Penninge archipelago in the Gulf of Finland.
This is light and thoughtful writing avoiding heavy duty self-indulgence, and the prose sits so amicably next to the etchings. The combination delivers a bird's eye view of their life together, seeking companionship and solitude from busy mainland lives:
"I was seized by a new feeling of detachment that was utterly unlike isolation, merely a sense of being an outsider, with no worry or guilt about anything at all. I don't know how it happened, but life became very simple, and I just let myself be happy."
Some people come to Jansson via her Moomin children's stories. Some via her books (try The Summer Book and A Winter Book) This is Jansson describing her personal delights and her 'happy place'.  It is a bookshelf treasure.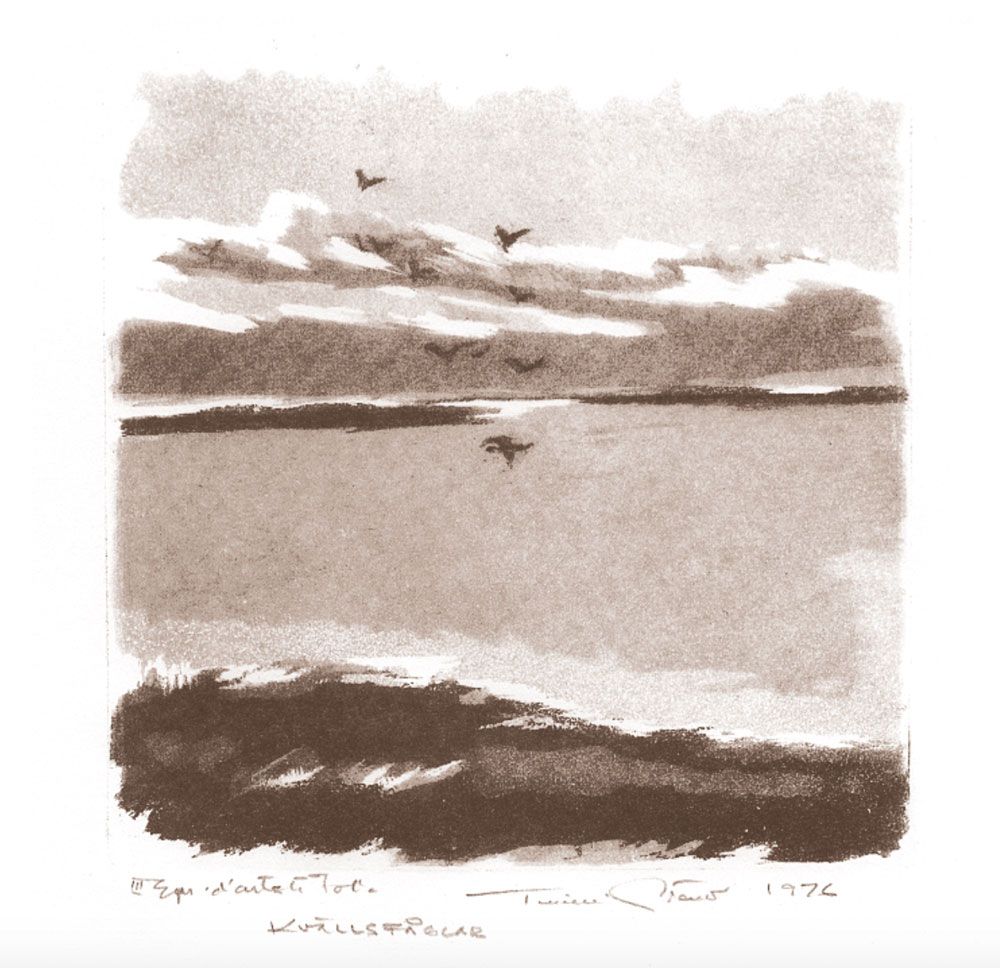 Price: £12.99
---
Deep Country – Five Years in the Welsh Hills
Neil Ansell
Paperback
Deep Country was published in 2011, but if you've not read it yet – then why not? It is about one man's island – deep in the Welsh Hills, a personal desire to live only with the very bare necessities.
Ansel's language is warm and familiar, so it's easy to sink into his experiences, and he arrives at a Victorian gamekeeper's cottage late on an autumn night:
"…windows were designed for keeping an eye on the pheasant pens on each side of the building. The one to the west looked out across the moors. You could cross two fields and you were on open moorland; you could walk west for twenty miles without seeing another house, or a road, or a fence. This uninhabited swathe of the Cambrian Mountains right in the very heart of the country has been called the green desert of Wales, its empty quarter."  
But he is not living alone, and, casting himself into the wild, understands the value of observing and living alongside nature. This about living with bats:
"I generally counted about 20 or thirty bats emerging from my loft….they came and went all night…Sometimes at night I could hear the faint rustle of them moving about in the roof space, and it felt like a privilege to know they were there, living out their unfathomable lives just above me."
Later we read about his delight with the small and inconspicuous signs of spring:
 "On my way home, I decided to take a long cut up the hill, on a well-worn sheep trail across the moor. The first pale green tendrils were emerging from the thick chestnut mat of last year's bracken. I rubbed my fingers on one of the delicate coils for that distinctive musty smell, the smell of spring on the moor."
And a walk along the river reveals a bird's world:
"On a stone at the water's edge a kingfisher was perched, its head tipped back and its beak pointing upwards like  a bittern hiding in the reeds, as if it were trying to look inconspicuous, something it was signally failing to achieve."
Curl up and read this book. It is Ansell's pleasure and satisfaction in his observations of the everyday in the natural world, as opposed to the spectacular, which engrosses the reader, and in a matter of a few pages, you will find yourself deep in the Welsh hills. 
Price: £9.99
---
No Boat Required – Exploring Tidal Islands
Peter Caton
If you've ever made the perilous day trip to Northumberland's Holy Island, clutching tide timetables and hoping to be fleet of foot, you will understand the many challenges involved in Peter Caton's mammoth adventure.
His mission was to visit all the tidal islands around the British coast. Caton achieves –  and to add piquancy to his adventure, decides to use only public transport from his Essex base.
Some of the destinations are well known (St Michael's Mount Cornwall, Burgh Island in Devon) some are less familiar –  Isle Ristol and Innis Mohr on the Scottish East Coast.
Tidal islands are enduring romantic visions of endless exploring possibilities, a sensibility probably dating from childhood seaside holidays and Enid Blyton books. Caton plays this out to the full. His enthusiasm is infectious, as is his attention to interesting detail all of which combine to make a travel book (not a guide – he is at pains to point out) refreshingly bereft of name dropping, irrelevant fact sharing and writer's blurb.  
This book takes us on an unpretentious journey around the coast of Britain's many tidal islands. It is, in book form, that 'more than interesting chat' to 'that bloke in the pub', a pint shared with a stranger who has had the energy and courage to visit places we can only hope one day to visit.   
Price: £12.99 
---
The Christmas Pine 
Julia Donaldson
Illustrated Victoria Sandoy
Pub. 2021 Scholastic
Hardback
"A magical story for Christmas, by the much- loved children's author, Julia Donaldson." Her heart-felt rhyme follows the trees journey from the forests of Norway to London's Trafalgar Square. The Christmas tree is a traditional gift from the Norwegians to the British as a thank-you for sheltering their King during the Second World War. Illustrated with captivating images from the Norwegian illustrator Victoria Sandoy, a Christmas book for children to treasure.   
Price: £12.99
---
At the Height of the Moon
A Book of Bedtime Poetry and Art
Pub. Prestel 2021
Hardback
Alison Baverstock, Matt Cunningham, Annette Roeder
This children's book will be one to journey with and treasure forever. Each poem is illustrated by a work from a huge range of artists across the centuries, some well known, some less familiar, from Monet and John Atkinson Grimshaw to Max Ernst.
The poems have been selected with insight and consideration for young dreamers, with writers from WB Yeats (The Wild Swans at Coole) to Roger McGough (Tomorrow Has Your Name On It). We read poems, meditations and prose accompanying the artworks from Carol Ann Duffy, Maya Anglou, Robert Frost, Ted Hughes, Jackie Kay, Liz Lochead and many more.
For carers reading to little ones, it is built into handy sections, Twilight, Dreamland, Moonlit Menagerie, Creepy Crawlies and Things that Go Bump in the Night, Minds Ablaze, Midnight and Magic.
The global reach behind the selection of prose, poems, and artworks will serve, entertain and invigorate generations of youngsters who never knew a time before the internet.
We can guarantee there will be a life—long favourite picture and poem from this book. It will be the gift the receiver will always been grateful for.  
Price: £18.99
---
I Belong Here
Anita Sethi
Pub. Bloomsbury Wildlife 2021
Hardback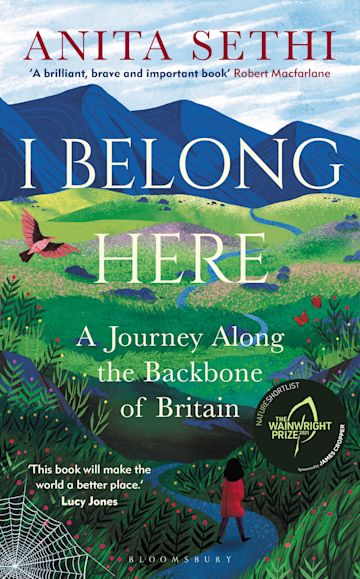 To say that Anita Sethi's book, I Belong Here, is a timely read is an obvious statement, but no less true for its self-evidence.
Sethi was a victim of horrendous racial abuse while travelling on a TransPennine train from her native Manchester to Newcastle. This vicious attack on her right to exist in the place of her birth understandably shook the writer to her core, causing her to question her sense of belonging in the UK and the North especially. Treading that well-worn path of the non-fiction journey of self-discovery – previously beaten by writers from Albert Wainwright to Cheryl Strayed – Sethi sets out to walk along the "backbone" of Britain, the Pennines.
By walking alone through the wild, remote Pennine landscapes she aims to reclaim her identity as a northerner and discover more about the people, places, and ideas of the North.
Sethi opens her Wainwright Prize-shortlisted book in the Peak District village of Hope. This is symbolic, both of the optimism that runs throughout her narrative –  even during her most harrowing accounts of racism in the UK – and of the activist spirit that has clearly spurred Sethi to give voice to her experiences. Walking, she argues, has always been a radical act – Hope, of course being a starting point for the climb up Kinder Scout, site of the 1932 Mass Trespass when an estimated 600-800 walkers sought to reclaim their right to roam in their homeland.
It is this same goal that drives Sethi's journey almost 90 years later. Her book does not follow a linear structure. Rather it weaves its way through historical accounts of Britain's colonial atrocities and the Suffragette Movement in Manchester; memoirs of Sethi's own lived experiences of racism; exquisite nature writing celebrating the unique Pennine landscape and wildlife; reflections on language and how it can shape societal prejudices; and passionate polemics on how to tackle racism and address the climate emergency.
Though this non-linear approach can occasionally make the narrative difficult to follow, it reflects Sethi's travels through the Pennines – which frequently venture off the beaten path to explore places such as Hull Pot in the Yorkshire Dales, England's largest natural hole (who knew?) – and brings a fresh perspective to a well-established genre.
I Belong Here is not just a timely read but an important one. Through this book, Anita Sethi transforms a deeply traumatic experience into a story of hope and an urgent call to action – for how we can all take steps to combat hate, tackle social injustice and preserve our unique natural environment.
R.Johnson, September 2021.  £16.99
---
Barbara Hepworth Art & Life
Eleanor Clayton
Published by Thames & Hudson
Hardback
The shout outs about this book are the excerpts from Hepworth's letters, (which it has to be said, did leave me wondering how researchers and archivists will fair in a digital world…)
These extracts mean the whole book becomes a true reflection of Hepworth's core values, and her voice sings through the masses of wonderful insights into her work, the tragic episodes of her life, and her overwhelming and inspiring commitment to her art.
I'm not a sculpture expert, or an art historian, or an artist, or an instinctive reader of biographies. My interest stemmed in this amazing lady being born and raised in my home-town of Wakefield – a place, unlike perhaps Florence, Paris, New York or even London (!) not immediately famous as a cultural nursery for world class artists.
So it was with great pride and pleasure I kept going, enjoying the personal insights, the realities of childcare and studio work through second world war challenges, Hepworth's steady growth to world fame, and not least, of course, her dignified, gentle, intelligent and polite insistence on the relationship between society, the natural world and her art.    
By the final pages I was enlightened and looking forward to years of future gallery visits, all the better informed by this book, to enjoy Hepworth's sculpture.    
PS I smiled to read the following description from The Manchester Guardian, 6 August 1951, reviewing her solo exhibition at the former Wakefield City Art Gallery:
"far the most satisfactory, most balanced, most perfectly achieved of the works shown, even when seen against the rather dismal Victorian-boarding-house- background of the Wakefield gallery, are the strictly abstract sculptures."
For an update on Wakefield City Art Gallery, we would urge you, dear reader, if you have not already done so, to please visit The Hepworth Wakefield
https://hepworthwakefield.org
SC July 2021 £25
---
Seed to Dust – A Gardener's Story
Marc Hamer
Published by Harvill Secker 2021 
Hardback
There has probably never been a more perfect time to read this book. Anxieties are high and our experiences of the world have become limited. We spend much of our time indoors. This book stands to remind us of the beauty and simplicity of the natural world. It is a love letter to the woodpecker, the crow and the rook, the 'low morning sun lighting up the glittering, dew-sagging spider webs', the 'red of autumn leaves'. Through the structure of a year, and significantly the four seasons, Marc subtly weaves the story of his own childhood and adult life against the backdrop of tending to the garden. 
Reading this book is like a long, comforting, all-encompassing hug. Each night I looked forward to picking up its pages and transporting myself away from the day's concerns to Miss Cashmere's garden and Marc's enlightening observations. It is a lovely story in and of itself, but it is also informative. I learnt a lot of practical things about gardening and the natural world. it also works on a deeper level, to throw into question the structures and choices that can dictate our lives. It made me re-evaluate the ways in which I spend my time, my own connection to the natural world, my distance from it. It left me longing for a much simpler life, to be guided only by the changing seasons and the resilient, ever turning cycle of nature.  
I felt very sad to finish this book, it had grown to become like an old friend that I visited each evening. Even now, a few weeks on from finishing it, I miss reading it. I highly recommend it, especially if you are craving stillness, relief from the uncertainties of this current climate, and the opportunity to reconnect with nature. 
ZC March 2021 £14.99
---
Luster
Raven Leilani
Published 2020 Pan Macmillan
Hardback
This debut by American writer Raven Leilani, student of Zadie Smith – hotly tipped to be one of the breakthrough novels of 2020. It throws us head first and breathless into the world of disillusioned painter Edie – struggling to get by in a dead-end admin job, sleeping with 'all the wrong men'. We follow the development of her dating Eric, a white middle-aged archivist living the suburban life with his wife and daughter, and the circumstances that see her moving in with his family. 
Edie's razor sharp, unflinching and astutely observational voice carries us through her navigation of her place (or lack of) within the world; race relations, sex, artistic expression and the systematic structures of privilege are dissected against the slippery and often dangerous state of being young, jobless and poor within The Big City. 
 The situations and environments the protagonist finds herself in are indisputably odd and often unsettling, her visits to the mortuary where her lovers' wife works being high on the list. They play out like scenes that would be well translated into film. I felt keenly the lack of dialogue; Leilani constructing off kilter relationships that the reader is given the job of piecing together through snippets of interaction or inaction. It's as if these people were simply thrown together like marbles in a bag, knocking up against one another, ultimately indifferent. 
I devoured this book in two sittings – a mean feat for my dismal attention span thanks to lockdown 3.0. I felt consumed by the unravelling narrative which dragged me in and under, Leilani's quick-witted language; surprising, poetic but occasionally cliche, the thing that stayed with me the most. By the end I was relieved to be released from the dysfunction of it all. I felt like I should have cared more – about the characters, the story, what happens next… 
Undoubtedly unlike anything else I have read, and for that reason alone I would recommend it. I'm excited to see what comes next from Leilani.
ZC, February 2021 £14.99 
---
Writing Wild
Kathryn Aalto
Published Timber Press, 2020
Paperback
Writing Wild, Women Poets, Ramblers, and Mavericks Who Shape How We See the Natural World.
Illustrated by Gisela Goppel
There is so much terrific nature-writing, but the genre seems to have a reputation for being stoically white and male.
And then along came Kathryn Aalto – American landscape designer, historian, and writer living in Exeter.  Her book Writing Wild, Women Poets, Ramblers, and Mavericks Who Shape How We See the Natural World, takes a modern view. It is a long overdue compendium of portraits about American and British women writers who have been, and are passionate about, their landscapes, gardens, and the natural world.
In her introduction, Aalto states: "If we don't give diverse narratives, first, the opportunity to exist, and second, recognition and legitimacy, it can appear that able-bodied white guys have, in the words of comedian Hannah Gadsby, "a monopoly on the human experience……"
This then is a mighty and wholly inspiring gathering of women writers, who have, as the sub-title states, shaped how we see the natural world.
Aalto digs out the little-known facts. About Dorothy Wordsworth, apparently "Ernest de Selincourt, one of her earliest posthumous editors and biographers, remarked that Dorothy was "probably the most remarkable and most distinguished of English prose writers who never wrote a line for the general public."
There is revealing insight into the poetry of Mary Oliver and the landscape she walked at her home in Maine, Nan Shepherd and her beloved Caledonian Mountains, the game changing Rachel Carson.
Aalto's own style is accessible and engaging and provides a clear view of the individual appeal of the writers.  American writer Elizabeth Rush, she tells, us, "made a deliberate decision to put at the heart of her book (Rising, 2018) stories of everyday people whose lives and livelihoods are being fundamentally reshaped by climate change."
Each portrait/ chapter is followed by a useful heads up of similar writers and we are provided with a bibliography and further reading. The book is wonderfully illustrated throughout by Gisela Goppel.
This is an invaluable reference and, we suspect, could and should be the beginning of a long and enlightening reading journey.
In her chapter about Amy Liptrot, (The Outrun,2016,  who we discover, headed for her homeland Orkney Islands after "years of hedonism and drowning in booze in London" ) Aalto states: "  We are meant to be in nature – even a picture of a tree can have restorative effect on our minds. Nature offers hope. Nature offers renewal. Close contact with nature can rewrite our inner geographies and save lives."
Yes, to that. Yes, to this enlightening and vital addition to the book shelves.
SC January 2021 £14.00